So these are some of my favorite pieces I saw at the National Gallery:
Water-Lilies Setting Sun. Monet 1907
The Grand Canal, Venice. Monet 1908.
Le Bec du Hoc, Grandcamp. Georges Seurat 1885.
The Boulevard Montmartre at Night. Pissarro
A Wheatfield With Cypresses. Vincent van Gogh, 1889.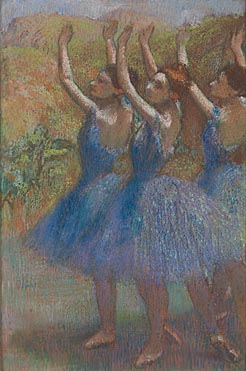 Three Dancers in Violet Tutus. Edgar Degas, 1896.
The Fighting Temeraire Tugged To Her Last berth To Be Broken Up. Joseph Turner, 1839.
The Virgin Child with Saint Anne and Saint John the Baptist (The Leonardo Cartoon). Leonardo da Vinci, 1500.